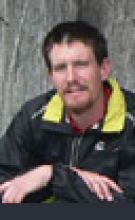 Jesse Minor
Graduate Student
BioSci East 128A
My interests and experiences lie at the intersection of science, natural resource policy, and environmental change. Current research topics include natural and anthopogenic forest disturbances such as wildfire, prescribed burning, and insect outbreaks, coupled with forest restoration techniques and land-use priorities. I have broad interests in nature society interactions, particularly with a focus on resource extractive industries such as fishing, forestry, grazing, and harvesting.
My dissertation work centers on a multi-agency landscape-scale forest restoration project in the Chiricahua and Dragoon Mountains of southeastern Arizona. One of several FireScape projects, Chiricahua-Dragoon FireScape involves partners from the Forest Service, Park Service, Bureau of Land Management, Nature Conservancy, and numerous private landowners and public-land permit holders.
I am conducting a spatially extensive fire history reconstruction of the Chiricahuas, Dragoons, and Dos Cabeza mountains, with the goal of providing informaiton on historical age structure, species competition, and disturbance histories of forest stands from oak-juniper woodlands up to high-elevation mixed-conifer forests.
In addition to fire history and dendroecological work, I am interviewing agency staff and landowners adjacent to the mountains about where they think fuel treatments, prescribed fire, and wildland fire are appropriate and necessary. These data will help the agencies prioritize their restoration efforts.