Irina Panyushkina
Associate Research Professor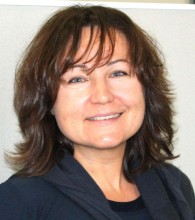 Research Interests:   
Dendrochronology, Paleoclimatology, Environmental Archaeology
Ongoing projects: 
•
Response of Saka settlement pattern to changes of aridity in Central Asia (first millennia BC) 
•
Tree-ring proxy of Eemian interglacial climate (MIS 5e) from the Pacific Northwest 
•
Ob River hydroclimatic variability for the last 1000 years, Siberia
•
History of forest disturbances induced by climate and insect outbreaks in the Tian Shan Mountains, Kazakhstan  
Selected publications: 
Panyushkina I.P., Shishov V.V., GrachevA.M., KnorreA.A., Kirdyanov A.V., Leavitt S.W., VaganovE.A., ChebykinE.P., ZhuchenkoN.A., Hughes M., 2016. Trends in elemental concentrations of tree rings from the Siberian Arctic. Tree-Ring Research 72 (2): 13-16.
Macklin M.G., Panyushkina I.P., Toonen W.H.J., Chang C., Tourtellotte P.A., Duller G.A., Wang H., Prins M., 2015. The influence of Late Pleistocene geomorphological inheritance and Holocene hydromorphic regimes on floodwater farming in the Talgar catchment, southeast Kazakhstan, Central Asia. Quaternary Science Review 129:85-95. 
Voelker S.L., Stambaugh M.C., Guyette R.P., Feng X., Grimley D.A., Leavitt S.W., Panyushkina I.P., Grimm E.C., Marsicek J.P., Shuman B., Curry B.B., 2015. Deglacial hydroclimate for Midcontinental North America. Quaternary Research 83 (2):336-344, doi:10.1016/j.yqres.2015.01.001 
Jull A.J.T., Panyushkina I.P., Lange T.E., Kukarskih V.V., Clark K.J., Myglan V.S., Salzer M., Burr G.S., Leavitt S.L. 2014. Excursions in the 14C record at AD 774-775 from tree rings from Russia and America. Geophysical Research Letters 10.1002/2014GL059874
Panyushkina I.P., Leavitt S.W. 2012. Ancient boreal forests under the environmental instability of the glacial to post-glacial transition in the Great Lakes region (14,000-11,000 years BP), Can. J. of Forest Research 43: 1032-1039.  dx.doi.org/10.1139/cjfr-2012-0339
Panyushkina I.P. 2012. Climate-induced changes in population dynamics of Siberian Scythians (700-250 BC), in Climates, Landscapes, and Civilizations. Eds. L. Giosan et al., Geophys. Monogr. Ser. 198:145-154, AGU, Washington D. C.
Panyushkina I.P., Hughes M.K., Vaganov E.A., Munro M.A.R. 2003. Summer temperature in northeastern Siberia since 1642 reconstructed from tracheids dimensions and cell numbers of Larix cajanderi.  Canadian Journal of Forest Research 33: 1-10.
Study Areas:   
Central Asia & Northern Eurasia 
Great Lakes & Pacific Northwest 
Study Intervals: 
Common Era, Holocene, Late Pleistocene  
Irina P. Panyushkina became a faculty member of the Laboratory of Tree-Ring Research, University of Arizona in 2006. Her doctoral and post-doctoral work at the Sukachev Institute of Forest, Russian Academy of Science, applied Siberian tree-ring and wood-anatomy records to paleoclimatic studies. 
She is a Fulbright awardee from U.S. State Department and has developed and directed over a dozen research projects funded by the National Science Foundation, the National Geographic Society and the CRDF Global. As an active member of the post-Soviet scientific community, Dr. Panyushkina facilitates collaborative research in Paleogeography and Dendrochronology between investigators of the United States and Europe throughout Russia and Kazakhstan.
The majority of her projects emphasize modeling tree-ring response to environmental change and climate variability.  Current research focuses on understanding past climate-human society interactions.